Data Sources
Biodiversity data consist of natural history observations backed up by careful field notes, photographic vouchers, and museum specimens.
Museum Specimens...
For more than 140 years, the San Diego Natural History Museum has been documenting the region's amphibian and reptile diversity. After years of preparation (and many more to come), the Atlas delivers direct access to the Museum's biodiversity databases through the Specify software platform. The databases contain collection information for each specimen, and many have high resolution photographs to go along with them. We are in the process of photographing the entire collection, which will take a number of years to complete.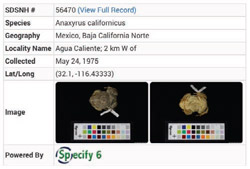 iNaturalist and Citizen Scientists...
Citizen science has always been a hallmark of the Museum's research programs. With the advent of digital photography, citizen scientists can help document the region's amphibian and reptile diversity at an unprecedented scale. For the Amphibian and Reptile Atlas of Peninsular California, we have adopted iNaturalist.org as our online platform for your photographic observations. iNaturalist.org is a powerful web app where you can record what you see in nature, meet other nature lovers, and learn about the natural world.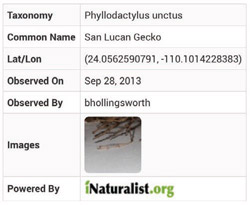 Combining Museum Collection Data and Observations From You...
One of the most notable features of the Atlas is our ability to combine your observations with museum specimen data on single map. For the first time you can view the historical basis for our understanding of the region's amphibian and reptile diversity and contribute your own meaningful observations. Together, we can build an information resource which will allow us to study how the distribution of species changes over time. Your observations are shown as yellow or blue map markers, while museum specimens are shown in red.