Supporters
The Atlas project would not be made possible without the generous support from our funders and volunteers.
Institute of Museum and Library Services...
The Institute of Museum and Library Services is the primary source of federal support for the nation's 123,000 libraries and 35,000 museums. Their mission is to inspire libraries and museums to advance innovation, lifelong learning, and cultural and civic engagement. Their grant making, policy development, and research help libraries and museums deliver valuable services that make it possible for communities and individuals to thrive. To learn more, visit www.imls.gov. Thanks to the grant award MA-04-12-0379-12, we were able to develop the Atlas website to increase access to our biodiversity information.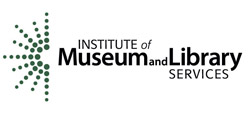 Volunteers...
Volunteers support the mission of the San Diego Natural History Museum in many ways. Volunteers are integral to the Museum's daily operations and have contributed thousands of hours in support of collections and database management. At present, one of the largest volunteer projects associated with the Atlas is No Specimen Left Behind, which has the goal of creating high resolution images for every specimen in the Department of Herpetology's research collection.
Additional Support...
Funding from the James Hervey Family Foundation, the Advised Fund of Philip M. Klauber, numerous individual contributors, and the National Science Foundation (0138605, 0749533, 8704630, and 8704630) set the stage for this project by rehousing the collections, upgrading the database, georeferencing localities, and databasing the catalogue. We also would like to thank the Specify software team for their advances in databasing and iNaturalist.org for providing a rich citizen science experience and a fully documented API.
Donate Today...
We are still actively seeking support to improve the Atlas website and its content, as well as, implement additional features that have been in development in the Atlas Labs. Donate today and apply your gift to the Amphibian and Reptile Atlas.